Have questions? Call us now!
847-468-8900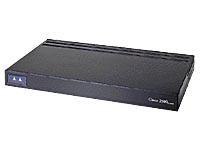 Cisco 2509 - remote access server
Cisco 2509 - Remote access server - 2 ports - Ethernet, serial - refurbished - external
The Cisco 2509 access server is a full-featured communication server with multiprotocol routing capability between synchronous serial, LAN, and asynchronous serial ports. They are designed to function as access servers for remote node and asynchronous/synchronous routing. The access server connects terminals, printers, modems, microcomputers, and remote LANs over asynchronous serial lines to an internetwork. The access server uses a set of connection services to allow remote networks access to an internetwork of LANs and WANs.Remote node services support remote network connectivity with Serial Line Internet Protocol (SLIP), Point-to-point Protocol (PPP), AppleTalk Remote Access Protocol (ARA protocol), and XRemote. Terminal services provide terminal-to-host connectivity with virtual terminal protocols including Telnet, local-area transport (LAT), TN3270, and rlogin. Terminal services can be used to connect to a modem in a modem pool for outbound connectivity. Routing services enable the access server to route packets over LANs and WANs using asynchronous interfaces to a remote LAN or WAN. Protocol translation allows terminal services running over one protocol to be translated to terminal services running over another protocol such as an X.25 packet assembler/disassembler (PAD) to Telnet (using Transmission Control Protocol/Internet Protocol [TCP/IP]). Protocol translation on the access server supports Telnet, TN3270, LAT, X.25, and PAD.
| | |
| --- | --- |
| Communication Mode | Full-duplex |
| Data Link Protocol | Ethernet, serial |
| Device Type | Remote access server |
| Dimensions (WxDxH) | 17.5 in x 10.6 in x 1.7 in |
| Enclosure Type | External |
| Features | NAT support |
| Flash Memory Installed (Max) | 8 MB flash |
| Network / Transport Protocol | TCP/IP, IPX/SPX, AppleTalk, DECnet, UDP/IP |
| Ports Qty | 2 |
| Power | -48 V ( DC Hz ) |
| Processor | 1 x Motorola 68030 20 MHz RISC |
| Product Description | Cisco 2509 - remote access server |
| RAM Installed ( Max ) | ( 16 MB ) |
| Remote Management Protocol | SNMP, RMON |
| Weight | 9.9 lbs |