Have questions? Call us now!
847-468-8900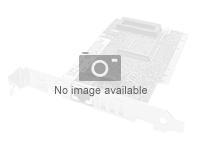 Chelsio Single-port, SFP+, 10GbE, PCI-E x8 Adapter
Chelsio - Network adapter - PCI Express x8 - 10 Gigabit Ethernet
Chelsio's S310E 10GbE storage accelerator is a 10 Gigabit Ethernet adapter with PCI Express host bus interface optimized for storage applications. The third-generation technology from Chelsio provides the highest 10GbE performance available and dramatically lowers host system CPU communications overhead.With on-board hardware that offloads TCP/IP, iSCSI, and iWARP RDMA processing from its host system, the S310E frees up host CPU cycles for useful applications. The system achieves increased bandwidth, lower latency, and lower power.This combination makes it practical to converge other networks that traditionally used niche technologies onto 10GbE. High bandwidth and extremely low latency make 10GbE with protocol offload the best technology for High-Performance Cluster Computing (HPCC) fabrics.The S310E also accelerates the iSCSI protocol for block-level storage traffic between servers and storage systems. With high-speed iSCSI, 10GbE is now the best technology for storage area networks. S310E-SR+ is a new version of the S310E-SR adapter supporting the small form factor pluggable (SFP+) optical module. SFP+ is the next generation transceiver package for 10GbE, offering a more compact form factor and lower power consumption. By removing Clock and Data Recovery (CDR) and Electronic Dispersion Compensation (EDC) from the transceiver, the SFP+ package achieves the same size as the industry standard SFP form, while offering higher mounting densities.
| | |
| --- | --- |
| Compliant Standards | IEEE 802.1Q, IEEE 802.1p, IEEE 802.3x, IEEE 802.3ad (LACP), IEEE 802.3ae |
| Data Link Protocol | 10 Gigabit Ethernet |
| Data Transfer Rate | 10 Gbps |
| Device Type | Network adapter |
| Form Factor | Plug-in card |
| Interface (Bus) Type | PCI Express x8 |
| PCI Specification Revision | PCIe 1.1 |
| Product Description | Chelsio network adapter |