Have questions? Call us now!
847-468-8900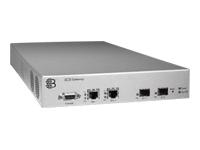 Brocade iSCSI Gateway storage controller - 2Gb Fibre Channel - iSCSI
Brocade iSCSI Gateway - Storage controller - 2Gb Fibre Channel - 135 MBps - iSCSI
The Brocade iSCSI Gateway enables cost-effective, easy-to-manage server connectivity to Fiber Channel storage devices-enabling remote user and interdepartmental access to these valuable resources. As a result, even the lowest-cost servers can connect to existing SANs. The Brocade iSCSI Gateway features a compact 1U half-rack-width design (full-rack-width design for clustered configurations). Each device provides two iSCSI ports for connecting to IP networks supporting iSCSI servers, and two 2 Gbit/sec Fiber Channel ports for connecting to Fiber Channel SANs or storage. By enabling block-based access to business-critical information, the Brocade iSCSI Gateway helps organizations rapidly add new servers and clients to their existing Fiber Channel SANs as business needs dictate.By extending the benefits of networked storage to IP-connected servers, the Brocade iSCSI Gateway helps organizations grow and consolidate their current Fiber Channel SAN infrastructures in a simple and cost-effective manner, thereby reducing operational costs.Organizations can easily manage one or more Brocade iSCSI Gateways through a browser-based GUI that can also monitor traffic statistics on each storage and network interface to help ensure high performance.The Brocade iSCSI Gateway provides two-way active/active clustering with failover and failback capabilities for business-critical environments. In addition, multiple iSCSI connections provide multipathing support from a single gateway to as many as 100 servers.