Have questions? Call us now!
847-468-8900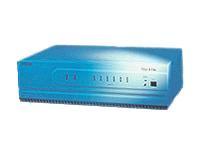 ADTRAN TSU 610 - multiplexor
ADTRAN TSU 610 - Multiplexor - external - T-1
The TSU 610 is a modular, full-featured T1/FT1 Multiplexer designed to support a wide range of end-user applications. Through the six expansion slots on the rear of the TSU 610, the user has complete flexibility in the type of DTE interfaces required for the T1 application. By supporting up to 24 DTE interfaces, the TSU 610 provides the same functionality as a traditional channel bank. The TSU 610 provides complete monitoring and control of internal functions with embedded Simple Network Management Protocol (SNMP). For critical applications, the TSU 610 has an option for an externally supplied UPS system.The TSU 610 is designed with the Integrated Communications Provider (ICP, CLEC, NSP or ISP) in mind. This new breed of carrier demands cost-effective and upgradeable termination equipment that supports a variety of local loop interfaces. With a modular, field upgradable network interface, the TSU 610 can terminate traditional, Type II T1 circuits, ADTRAN(R) deployed HDSL circuits and, in the future ADTRAN HDSL2. The design of the network interface also provides support for other types of DSL circuits. In addition, the TSU 610 offers NEBs, UL 1950 and FCC (15 &68) compliance for a safe and reliable network termination and customer interface solution. Support for future customer growth, through the unit's six expansion slots, is an essential feature of the TSU 610. The ability to combine many types of plug-in and plug-on modules provides extensive combinations of voice and data interfaces. Several data modules are available for single and dual-port access to Frame Relay, DDS or Basic Rate ISDN services provided over T1 facilities. Voice modules are also easily integrated allowing access to analog voice circuits or PBX connections. As a fully functional T1 Multiplexer, the TSU 610 supports all mixed-mode networking applications providing termination for circuits containing voice, data and video applications.
| | |
| --- | --- |
| Data Transfer Rate | 1.5 Mbps |
| Device Type | Multiplexor |
| Dimensions (WxDxH) | 17.5 in x 12.5 in x 5.5 in |
| Features | Modular design, manageable |
| Form Factor | External |
| Line Rate | T-1 |
| Power | 24 V ( DC Hz ) |
| Product Description | ADTRAN TSU 610 - multiplexor |
| Remote Management Protocol | SNMP |
| Weight | 13 lbs |