Have questions? Call us now!
847-468-8900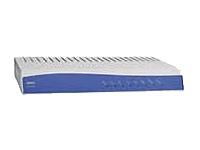 ADTRAN Total Access 924e - router
ADTRAN Total Access 924e - Router - VoIP phone adapter - voice card - Ethernet, Fast Ethernet, HDLC, Frame Relay, PPP, TDM, MLPPP, FRF.12 - ADTRAN OS - 1U - external
The Total Access 900 series of IP business gateways combine the functionality of ADTRAN's industry-leading integrated access devices with a SIP and analog gateway to provide Incumbent Local Exchange Carriers (ILECs), Competitive Local Exchange Carriers (CLECs), and Internet Service Providers (ISPs) a cost-effective IP network strategy for VoIP deployment, with support for legacy equipment. The Total Access 900e series allows carriers to deliver SIP trunks, hosted PBX, and other voice and data services such as Dedicated Internet Access (DIA) to small and medium businesses, quickly and cost-effectively.