Have questions? Call us now!
847-468-8900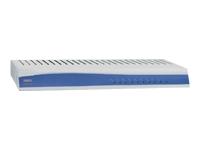 ADTRAN Total Access 924e - router
ADTRAN Total Access 924e - Router - VoIP phone adapter - voice card - Ethernet, Fast Ethernet, HDLC, Frame Relay, PPP, TDM, MLPPP, FRF.12 - ADTRAN OS - 1U - external
The Total Access 900 Series of Integrated Access Devices (IADs) provide Incumbent Local Exchange Carriers (ILECs), Competitive Local Exchange Carriers (CLECs), and Internet Service Providers (ISPs) a cost-effective IP network strategy for Voice over IP (VoIP) deployment, with support for legacy equipment.The Total Access 900 Series provides carriers the ability to deliver Session Initiated Protocol (SIP) trunks, hosted PBX, and other voice and data services such as Dedicated Internet Access (DIA) to small and medium businesses without requiring new phone system investment. Carriers benefit from features such as dynamic bandwidth allocation and G.729a voice compression technology, reducing leased line backhaul costs. End users benefit from the additional VoIP services while making use of their existing equipment, migrating from TDM to VoIP at their own pace. These IADs are the first to incorporate the ADTRAN Operating System (AOS), a fully featured, scalable operating system used in ADTRAN internetworking systems.