Have questions? Call us now!
847-468-8900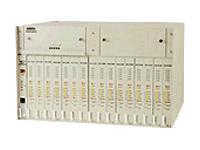 ADTRAN Smart 16 - modular expansion base
ADTRAN Smart 16 - Modular expansion base - 0 / 16 - external
The ADTRAN Smart 16/16e shelf provides a rackmount, high-density solution for central site WAN connectivity requirements. The shelf provides flexibility, allowing installation of a mixture of 16 WAN communication devices. ADTRAN has a complete offering of ISDN, DDS, Switched 56, and FT1/T1 products that operate in the shelf. The Smart 16/16e shelf may be configured for 19" or 23" mounting with either AC or DC power. Load sharing and redundancy are provided with an optional second power supply. The shelf incorporates a midplane design that facilitates hot swapping for all devices, including the power supplies.In addition to load sharing and power supply redundancy, additional security can be provided with power input redundancy in the optional dual power feed version of the Smart 16/16e shelf. This dual power feed option allows powering from two different sources (either both AC or both DC). If the primary power circuit breaker trips, the second, independent circuit continues to power the entire shelf without loss of service. The dual-feed shelves include two power supplies.A common controller card is used to configure and control all devices installed in the shelf. Up to 15 additional shelves may be daisy chained and controlled locally or remotely by a VT100 terminal attached to a single controller card. An optional 2x16 LCD display and key pad is available in both handheld DATAMATE and rackmount versions for local configuration by connecting directly to the front of the controller card via the RJ-11 jack.
| | |
| --- | --- |
| Device Type | Modular expansion base |
| Dimensions (WxDxH) | 17.2 in x 14.9 in x 10.5 in |
| Enclosure Type | External |
| Features | Manageable |
| Power | AC 120/230 V ( 50/60 Hz ) |
| Product Description | ADTRAN Smart 16 - modular expansion base |
| Weight | 19.8 lbs |