Have questions? Call us now!
847-468-8900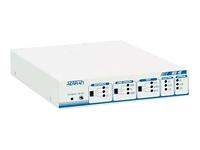 ADTRAN OCU 45 - short-haul modem
ADTRAN OCU 45 - Short-haul modem - ST multi-mode - BNC - external - up to 1.2 miles - T-3/E-3 - 1310 nm
ADTRAN has applied its industry-leading carrier class expertise to the OCU 45, creating a product that meets the most stringent carrier class requirements. The OCU 45 offers transparent transport of T3/E3/STS-1 services over a fiber transport, at distances up to 40 km. The OCU 45 is available in single-mode and multi-mode versions. Measuring only one rack unit high, the OCU 45 can be used standalone, wall-mounted or mounted in 19-inch or 23-inch racks using an optional mounting tray. This compact device gives NSPs a convenient way to extend T3/E3/ STS-1 services from their point-of-presence to their customer and provides enterprise users a powerful tool for extending T3/E3/STS-1 services over fiber in a campus environment. Configuration of the OCU 45 is accomplished through two switches on the front of the unit, which configure the metallic interface to T3, E3 or STS-1 and sets metallic line length to short or long. The OCU 45 has both normally-open and normally-closed alarm relay contacts, with a front panel alarm cutoff switch.Diagnostics include metallic and optical loop-backs initiated via a front panel switch. Three LEDs monitor the status of the metallic and optical interfaces.This bundle includes: OCU 45 multi-mode ST (1200664L4), 48 VDC AC/DC power supply (1202470L1), and T3SU 300 AC (1202217L2).