Have questions? Call us now!
847-468-8900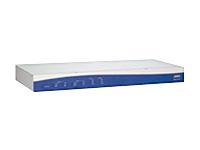 ADTRAN NetVanta 3305 - router
ADTRAN NetVanta 3305 - Router - DSU/CSU - Ethernet, Fast Ethernet, Frame Relay - ADTRAN OS - rack-mountable
The NetVanta 3000 Series of modular access routers are designed for cost-effective Internet access, corporate Frame Relay, and point-to-point connectivity. The NetVanta 3000 Series currently consists of the NetVanta 3200, 3205, and 3305 with a variety of interchangeable Network Interface Modules (NIMs) and Dial Backup Modules (DIMs).Residing in a 1U high, 19" rack-mountable metal enclosure, the NetVanta 3305 is a single platform that offers dual network interface slots and dual 10/100BaseT Ethernet LAN ports for true LAN segmentation or DMZ applications. A single slot within any of the NetVanta 3000 Series will house a variety of NIMs and DIMs, which include a 56/64K, T1/FT1, T1/FT1 with DSX-1, or a serial interface. For dial backup an Analog Modem or an ISDN BRI DIM is available for preventing downtime by dialing around a failed circuit and fully compatible with ADTRAN Safe-T-Net based systems. The versatile hardware platform of the NetVanta 3305 is further complemented with the ADTRAN Operating System (OS). The ADTRAN OS allows for the support of static and default routes, and allows for fast, accurate network convergence using routing protocols such as OSPF and RIP version 1 and 2. In addition, the ADTRAN OS terminates Frame Relay and PPP WAN protocols. For added security, the NetVanta 3305 provides a powerful, high performance stateful inspection firewall. It will examine all incoming and outgoing packets against the security policies established by the IT Manager. In addition, the firewall can identify and protect against common Denial of Service (Dos) attempts like TCP syn flooding, IP spoofing, ICMP redirect, ping-of-death, and IP reassembly problems.The NetVanta 3305 includes built-in alert and logging mechanisms for notifying network administrators about suspicious activities going on in the network. For managing IP addresses, the NetVanta 3305 can act as a DHCP server by assigning IP addresses, or as client by receiving an IP address. In addition, the NetVanta 3305 also offers Network Address Translation (NAT/NAPT) for IP address concealment and conservation.
| | |
| --- | --- |
| Data Link Protocol | Ethernet, Fast Ethernet, Frame Relay |
| Device Type | Router |
| Dimensions (WxDxH) | 17.2 in x 7.8 in x 1.3 in |
| Features | ADTRAN OS , firewall protection, DHCP support, NAT support, NAPT support |
| Flash Memory | 8 MB |
| Form Factor | Rack-mountable |
| Power | AC 110/230 V ( 50/60 Hz ) |
| Processor | 1 x Motorola MPC860 80 MHz |
| Product Description | ADTRAN NetVanta 3305 - router |
| RAM | 32 MB |
| Routing Protocol | OSPF, RIP-1, RIP-2 |
| Weight | 7.5 lbs |