Have questions? Call us now!
847-468-8900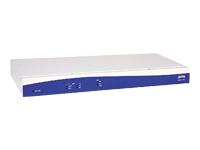 ADTRAN NetVanta 3205 Chassis with Enhanced Feature Pack Software (VPN Bundle) - router
ADTRAN NetVanta 3205 Chassis with Enhanced Feature Pack Software (VPN Bundle) - Router - Ethernet, ATM, Fast Ethernet, HDLC, Frame Relay, PPP, MLPPP - ADTRAN OS - 1U - external
The NetVanta 3205 is a single-slot, single- Ethernet 1U high, rackmountable metal enclosure. A single slot within any of the NetVanta 3000 Series will house a variety of NIMs and DIMs, which include a 56/64k, T1/ FT1, T1/FT1 with DSX-1, Dual T1s, E1/FE1, E1/ FE1 with G.703, ADSL, or a Serial interface. For dial backup an Analog Modem, an ISDN BRI, or Serial DIM is available for preventing downtime by dialing around a failed circuit to any PPP compliant device.The versatile hardware platform of the NetVanta 3205 is further complemented with the ADTRAN Operating System (AOS). AOS allows for the support of static and default routes, demand routing, and allows for fast, accurate network convergence using routing protocols such as BGP, OSPF, and RIP. In addition, AOS terminates Frame Relay, Multilink Frame Relay, PPP, Multilink PPP, and HDLC WAN protocols. Multihoming is also available to provide redundant or backup WAN links to multiple ISPs, guaranteeing a wide-area connection.For added security, AOS provides a powerful, high performance stateful inspection firewall. It will examine all incoming and outgoing packets against the security policies established by the IT manager. In addition, the firewall can identify and protect against common Denial of Service (Dos) attacks like TCP syn flooding, IP spoofing, ICMP redirect, ping-of-death, and IP reassembly problems. With the AOS Enhanced Feature Pack Upgrade, the NetVanta 3000 Series adds the support for IPSec compliant VPN. The NetVanta 3205 supports up to five simultaneous VPN tunnels, while supporting encryption algorithms like DES, 3DES, and AES. With this upgrade, the NetVanta 3205 is fully compatible with other IPSec VPN equipped NetVanta products.
| | |
| --- | --- |
| Compliant Standards | IEEE 802.3, IEEE 802.1Q, IEEE 802.1x, X.509 |
| Data Link Protocol | Ethernet, ATM, Fast Ethernet, HDLC, Frame Relay, PPP, MLPPP |
| Device Type | Router |
| Dimensions (WxDxH) | 17.2 in x 7.8 in x 1.3 in |
| Features | ADTRAN OS , modular design, firewall protection, auto-sensing per device, DHCP support, NAT support, VPN support, NAPT support, auto-negotiation, trunking, VLAN support, reverse NAT support, Syslog support, Stateful Packet Inspection (SPI), DoS attack prevention, ALG support, DiffServ support, manageable, E-mail alert, integrated CSU/DSU, Low-latency queuing (LLQ), Weighted Fair Queuing (WFQ), SMTP traffic control, Quality of Service (QoS) |
| Form Factor | External - modular - 1U |
| Network / Transport Protocol | ICMP/IP, IPSec, PPPoE, PPPoA, SMTP, DHCP |
| Processor | 1 x Motorola MPC866 120 MHz |
| Product Description | ADTRAN NetVanta 3205 Chassis with Enhanced Feature Pack Software (VPN Bundle) - router |
| Remote Management Protocol | SNMP 3, HTTP |
| Routing Protocol | OSPF, RIP-1, RIP-2, BGP, IGMPv2, static IP routing, GRE |
| VoIP Protocols | SIP |
| Weight | 7.1 lbs |