Have questions? Call us now!
847-468-8900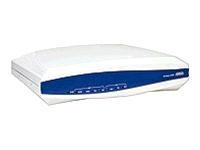 ADTRAN NetVanta 3200 - router
ADTRAN NetVanta 3200 - Router - DSU/CSU - Ethernet, Fast Ethernet, Frame Relay, PPP - external
The NetVanta 3000 Series of modular access routers is designed for cost-effective Internet access, corporate Frame Relay, and point-topoint connectivity. The NetVanta 3200 is a single-slot, standalone unit in a plastic housing. A single slot within any of the NetVanta 3000 Series will house a variety of NIMs and DIMs, which include a 56/64K, T1/FT1, T1/FT1 with DSX-1, or a Serial interface. For dial backup, an Analog Modem or an ISDN BRI DIM is available for preventing downtime by dialing around a failed circuit and fully compatible with ADTRAN Safe-T-Net based systems.The versatile hardware platform of the NetVanta 3200 is further complemented with the ADTRAN Operating System (OS). The ADTRAN OS allows for the support of static and default routes, and allows for fast, accurate network convergence using routing protocols such as OSPF and RIP. In addition, the ADTRAN OS terminates Frame Relay and PPP WAN protocols. The ADTRAN OS offers a standard Command Line Interface (CLI) that mimics the widely adopted, industry de facto standard. The sequence of commands to configure similar devices is almost identical therefore eliminating training cost associated to re-learning a new operating system or costly industry certifications. The CLI also allows for configuration scripts to be used, saved, and downloaded for quick and easy backups or as a recovery mechanism. For added security, the ADTRAN OS provides a powerful, high performance stateful inspection firewall. It will examine all incoming and outgoing packets against the security policies established by the IT manager. In addition, the firewall can identify and protect against common Denial of Service (Dos) attempts like TCP syn flooding, IP spoofing, ICMP redirect, ping-of-death, and IP reassembly problems. The ADTRAN OS includes built-in alert and logging mechanisms for notifying network administrators about suspicious activities going on in the network. For managing IP addresses, the ADTRAN OS also offers Network Address Translation (NAT/NAPT) for IP address concealment and conservation.With the ADTRAN OS Enhanced Feature Pack Upgrade, the NetVanta 3000 Series adds the support for IPSec compliant Virtual Private Networking (VPN). The 3200 supports up to five simultaneous VPN tunnels, while supporting encryption algorithms like DES, 3DES, and AES. With this upgrade, the NetVanta 3000 Series is fully compatible with ADTRAN's NetVanta 2000 Series of VPN/Firewall appliance and the NetVanta VPN Software Client. ADTRAN, the leader in WAN connectivity, offers proven and dependable equipment that will increase your network performance, lower costs and allow migration to next generation technologies. The NetVanta 3000 Series is no exception. With this kind of corporate backing and product versatility, the NetVanta 3000 Series offers a low-cost, feature-rich access router platform with the freedom for future expansion and network growth.
| | |
| --- | --- |
| Compliant Standards | IEEE 802.3, IEEE 802.3u |
| Data Link Protocol | Ethernet, Fast Ethernet, Frame Relay, PPP |
| Device Type | Router |
| Digital Signaling Protocol | DDS |
| Dimensions (WxDxH) | 9 in x 6.4 in x 1.6 in |
| Features | Firewall protection, IP-routing, DHCP support, NAT support, VPN support, NAPT support, auto-negotiation |
| Flash Memory | 8 MB |
| Form Factor | External |
| Network / Transport Protocol | IPSec |
| Power | AC 110/230 V ( 50/60 Hz ) |
| Processor | 1 x Motorola MPC860 80 MHz |
| Product Description | ADTRAN NetVanta 3200 - router |
| RAM | 16 MB |
| Remote Management Protocol | SNMP |
| Routing Protocol | OSPF, RIP-1, RIP-2, static IP routing |
| Weight | 2 lbs |