Have questions? Call us now!
847-468-8900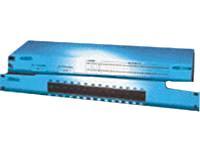 ADTRAN MX2800 M13 - multiplexor
ADTRAN MX2800 M13 - Multiplexor - rack-mountable - T-3
ADTRAN has applied its industry-leading carrier class expertise to the MX2800 series multiplexer, creating a product that meets the most stringent carrier class requirements. The MX2800 offers bandwidth consolidation at a low price and in the smallest footprint available in the industry. Measuring only one rack unit high in 19-inch or 23-inch rackmount configurations, this compact device gives NSPs and enterprise users a powerful tool for consolidating 28 T1 signals or 21 E1 signals into a T3 circuit.The MX2800 houses two hot-swappable controller cards that are capable of combining independent T1s, E1s, or T1s and E1s, on the same DS3. The two controller cards also provide built-in 1: 1 redundancy for the DS1 and DS3 signals as well as redundant DS3 connections. A fully connectorized backplane means no wire wrapping and quick easy installation. As with all ADTRAN products, the MX2800 offers comprehensive management options. It features a VT100 terminal interface for local configuration. To support SNMP and Telnet management, the MX2800 has an integrated 10BaseT Ethernet port. Also integrated into the unit is a V.34 modem operable in VT100 mode or SLIP/PPP mode for SNMP and Telnet access. The modem is capable of performing a dial-out "cry for help" for units that are located in unmanned facilities. Carriers looking to maximize their copper investment and consolidate their services in the most efficient manner will find the MX2800 will pay off quickly. For example, a bandwidth reseller who is co-located at an unmanned site and backhauling local and long distance voice service can use the MX2800 to gain T1 access off HiCap SONET rings. The MX2800 is also ideal for Competitive Local Exchange Carriers (CLECs) who are also looking for an efficient means for backhauling local and long distance voice to or from the IXC or LEC. As Internet use continues its rapid expansion, Internet Service Providers are also well served with the MX2800's bandwidth consolidation.
| | |
| --- | --- |
| Analog Ports Qty | 1 |
| Data Link Protocol | Ethernet, serial |
| Data Transfer Rate | 44.736 Mbps |
| Device Type | Multiplexor |
| Dimensions (WxDxH) | 17 in x 7.9 in x 1.7 in |
| Features | Modular design, manageable |
| Form Factor | Rack-mountable |
| Line Rate | T-3 |
| Power | ( 60 Hz ) |
| Product Description | ADTRAN MX2800 M13 - multiplexor |
| Protocols & Specifications | ITU V.34 |
| Remote Management Protocol | SNMP |
| Weight | 5.5 lbs |