Have questions? Call us now!
847-468-8900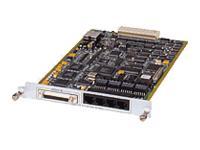 ADTRAN multiplexor
ADTRAN - Multiplexor - plug-in module - T-1
The NxT1 HSSI/V.35 module combines multiple T1 circuits into a single logical data stream to an integral High-Speed Serial Interface (HSSI) port or V.35 port using an optional cable. This hot-swappable module uses an ADTRAN proprietary T1 Inverser Multiplexing protocol to support point-to-point, high-speed data applications. The inverse multiplexing capacity of the module accommodates eight T1s, and the module automatically adjusts the data rate to the HSSI/V.35 port upon loss of one or more T1 circuits. In addition to the HSSI port, four T1 ports are included on the module itself, while additional T1 ports can be provided using other ATLAS 800 Series T1 modules or a T3 circuit. Dial backup is not available for any bandwidth assigned to the HSSI/V.35 port. Use of the NxT1 HSSI/V.35 module in the ATLAS Integrated Access Device (IAD) does not impact other applications such as T1, ISDN, and/or Frame Relay. The primary application for this module is high-speed connectivity between two external routers, each configured with a HSSI or V.35 port.
| | |
| --- | --- |
| Data Link Protocol | HSSI |
| Data Transfer Rate | 11 Mbps |
| Device Type | Multiplexor |
| Dimensions (WxDxH) | 6.3 in x 9 in x 1.6 in |
| Form Factor | Plug-in module |
| Line Rate | T-1 |
| Product Description | ADTRAN multiplexor |