Have questions? Call us now!
847-468-8900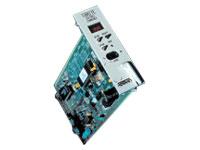 ADTRAN multiplexor
ADTRAN - Multiplexor - 1 ports - plug-in card
The ADTRAN T-BR1TE is an economical way of offering Basic Rate ISDN by extending Basic Rate Service from an ISDN-equipped PBX or switch over T1 carrier lines to remote locations. Using the T-BR1TE, the S/T-interface can be deployed from a remote location serving a maximum of 3, 000 feet, making it ideal for customer-owned networks. The T-BR1TE is a standard D4 channel unit that plugs into a T1 multiplexer such as a D4 channel bank, SLC-96, ADTRAN ACT, or BR1TE bank. The T-BR1TE transports 2B+D information over T1 carriers by inserting the two B channels at 64 kbps and a single D channel at 16 kbps into three DS0 time slots. The Basic Rate Interface information is transported from a T-BR1TE in the T1 multiplexer at the switch location, over the T1 carrier, to the remote T-BR1TE and T1 multiplexer. The T-BR1TE can be optioned as either the adjacent to the switch unit or the adjacent to the customer unit, reducing inventory requirements.The T-BR1TE provides a standard four-wire S/T-interface which operates at 192 kbps full-duplex and utilizes separate twisted wire pairs for transmit and receive signals. The S/T-interface conforms to the ANSI T1.605-1992 S/T-interface standard and the CCITT I.430 Layer 1 standard. The T-BR1TE can supply power in a PS1 or PS2 arrangement for up to eight pieces of terminal equipment in a short or extended passive bus. The front panel of the T-BR1TE contains a display, controls, and Bantam test jacks for local test access.
| | |
| --- | --- |
| Data Link Protocol | ISDN |
| Data Transfer Rate | 192 Kbps |
| Device Type | Multiplexor |
| Dimensions (WxDxH) | 1.4 in x 10 in x 4.4 in |
| Form Factor | Plug-in card |
| Ports Qty | 1 |
| Product Description | ADTRAN multiplexor |
| Weight | 0.7 lbs |