Have questions? Call us now!
847-468-8900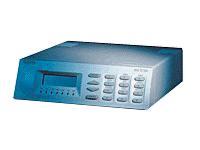 ADTRAN ISU 512 - multiplexor
ADTRAN ISU 512 - Multiplexor - external
The ADTRAN ISU 512 is a standalone ISDN Service Unit that connects data terminal equipment (DTE) to the ISDN network. The ISU 512 is specifically designed as a low-cost solution for applications such as video-conferencing, T1 backup, LAN/WAN connectivity, and high-speed file transfer.The ISU 512 is designed as a cost-effective inverse multiplexer for 384 kbps videoconferencing. Some video-conferencing products operate in a dual port mode. The ISU 512 is designed to operate in a dual port mode making it backward compatible with videoconferencing systems utilizing two Switched 56 DSUs or a dual port ISDN terminal adapter. The ISU 512 connects directly to the ISDN network using up to four Basic Rate ISDN (BRI) lines. By terminating four BRI circuits, the ISU 512 can create an aggregate bandwidth of up to 512 kbps which can be used to backup a T1 circuit. Since ISDN is a switched digital service, bandwidth can be established and utilized on an as needed basis. Therefore, the ISU 512 is well suited for applications where a high bandwidth connection is needed to support bursty or infrequent traffic like medical image or large file transfer. The ISU 512 may utilize either the V.35 or RS-530 DTE interface and supports synchronous data rates from 56 kbps to 512 kbps. At rates over 64 kbps, the BONDING Mode 1 inverse multiplexing protocol synchronizes data using from one to eight 64 kbps B channels. By supporting BONDING the ISU 512 interoperates with other BONDING-compatible inverse multiplexers and ISDN terminal adapters. The ISU 512 can be configured and maintained, locally or remotely, using a VT 100 terminal interface. For remote configuration, the unit can be accessed over the ISDN line or externally through the CHAIN IN port on the back panel of the unit. The front panel of the ISU 512 consists of a two-line by 16 character LCD display, seven LEDs, and a 16-button keypad. This allows for configuring, dialing, testing, and monitoring of the unit without data terminal or test equipment. Dialing from the unit is accomplished by using the front panel, stored numbers, DTR assertion, or V.25 bis in-band dialing. The RS-366 parallel dial interface is available for applications such as video-conferencing. The ISU 512 also supports dedicated 2B1Q services. This provides a dedicated point-to-point service (as in a limited distance modern or leased line application) with no dialing necessary.
| | |
| --- | --- |
| Data Link Protocol | ISDN |
| Data Transfer Rate | 512 Kbps |
| Device Type | Multiplexor |
| Digital Signaling Protocol | ISDN BRI, ISDN 5ESS, ISDN DMS-100, ISDN - 1(NI-1) |
| Dimensions (WxDxH) | 7.9 in x 10.5 in x 2.5 in |
| Form Factor | External |
| Localization | English |
| Power | AC 110 V ( 50/60 Hz ) |
| Product Description | ADTRAN ISU 512 - multiplexor |
| Protocols & Specifications | ITU V.25bis |
| Remote Management Protocol | SNMP |
| Weight | 3.1 lbs |