Have questions? Call us now!
847-468-8900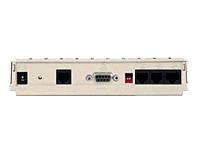 ADTRAN Express 4110 - router
ADTRAN Express 4110 - Router - ISDN - Ethernet, ISDN - external
The ADTRAN Express 4100 series is a family of remote access routers that support data and voice over a single basic rate ISDN (BRI) line. The family provides a compact unit for home Internet applications or office telecommuters.The Ethernet interface provides a high-speed connection that outperforms lower speed EIA-232 devices, such as traditional analog modems or terminal adapters. For even higher data rates, the units support hi/fn (formerly STAC) LZS compression as a standard feature and are interoperable with Ascend compression (used by most Internet providers). The units support IP/IPX routing and will bridge all other protocols. These functions can be performed concurrently or individually. Extensive filtering capabilities allow for controlling of bridged traffic, conserving bandwidth, and securing the local LAN. Server and client password protection, PAP, CHAP, EAP, and caller ID achieve additional network security. Dial-on-demand allows connections to connect and disconnect automatically based on thresholds and user demands. With IP addresses at a premium, the Express 4100 series use Network Address Translation (NAT) to conserve addresses. NAT allows the Express 4100 series to simultaneously translate multiple computer LAN addresses to a single IP address. This feature allows customers to pay for only one IP address to access the Internet versus one IP address for every user. Additionally, the Express can assign this IP address dynamically. For telecommuting applications, the Express 4110 and 4120 offer two analog phone ports for connecting phones, fax, or modems. When transmitting data over two B channels (128k) and the phone rings, the Express 4110 and 4120 will assign one of those B channels to voice as soon as the phone is picked up. Once the call terminates, both B channels will are reassigned back to the data transmission. The phone ports support all custom calling features such as caller ID, call waiting, call forwarding, hold, transfer, and conference calling. The units are also capable of receiving two separate calls from two separate locations and merging the data through the Ethernet connection (2x64 dialing).
| | |
| --- | --- |
| Analog Ports Qty | 2 |
| Compliant Standards | IEEE 802.3 |
| Data Link Protocol | Ethernet, ISDN |
| Data Transfer Rate | 10 Mbps |
| Device Type | Router |
| Digital Ports Qty | 1 |
| Digital Signaling Protocol | ISDN BRI, ISDN 5ESS, ISDN DMS-100, ISDN - 1(NI-1) |
| Dimensions (WxDxH) | 6.6 in x 4 in x 1.5 in |
| Features | Manageable |
| Form Factor | External |
| Localization | English |
| Network / Transport Protocol | TCP/IP, IPX/SPX, UDP/IP |
| Power | AC 110 V � 10% ( 60 Hz ) |
| Product Description | ADTRAN Express 4110 - router |
| Remote Management Protocol | SNMP |
| Weight | 0.9 lbs |