Have questions? Call us now!
847-468-8900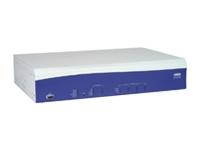 ADTRAN Atlas 550 - router
ADTRAN Atlas 550 - Router - CSU - Ethernet, Fast Ethernet, Frame Relay
The ATLAS 550 is an Integrated Access Device designed to improve and lower the costs of Voice/Data, video, and Internet communications for both enterprise businesses and network service providers. With the ATLAS 550, many WAN functions have now been merged and combined into a small, economical, modular platform that will replace a rack of traditional single function access devices. With the ATLAS 550, traditional multiplexed and packet networks are easier to deploy and manage while providing more bandwidth efficiency out of existing or new communications links. The ATLAS 550 provides a new level of communications flexibility by offering many of the features previously found in larger central office, PBX, or router equipment.The ATLAS 550 chassis includes a high speed multiprotocol backplane and six modular expansion slots two network interface slots and four user interfaces slots. A wide range of hot swappable, industry standard modules are also available to effectively converge your telecommunications and your existing network systems such as routers, PBX, key systems, video conferencing equipment, remote access servers, LANS, faxes, and telephones. The ATLAS 550 will typically reside at a customer site and perform the functions found in multiport multiplexers, channel banks, 1/0 cross connect switches, Frame Relay access devices/concentrators/switches, IP routers, and ISDN switches. It also includes an integral voice switchboard and dial plan for dynamically and intelligently switching voice and data calls based on the telephone number dialed.