Have questions? Call us now!
847-468-8900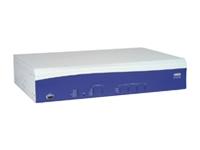 ADTRAN Atlas 550 - router
ADTRAN Atlas 550 - Router - DSU/CSU - Ethernet, Frame Relay
ATLAS is a multi-T1/PRI enterprise platform, which converges voice, data, video and Internet traffic through dynamic bandwidth allocation, circuit switching, and packet routing. The ATLAS 550 is designed for the small-to-medium business network with one to 18 T1/PRIs. The ATLAS base chassis provides six modular expansion slots, two network interface slots, and four user interface slots.