Have questions? Call us now!
847-468-8900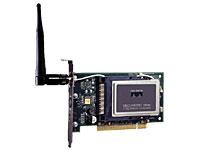 802.11b PCI Adapter w/RP-TNC Connect., Dipole Ant, 10 PK
Cisco Aironet 350 - Network adapter - PCI - Ethernet, 802.11b (pack of 10 )
Wireless client adapters are the key to adding mobility and flexibility to an enterprise-increasing productivity by enabling users to have network and Internet access anywhere within a building without the limitation of wires. The Cisco Aironet 350 Series Client Adapters are a complement to Aironet 350 Series infrastructure devices, providing an enterprise-ready solution that combines mobility with the performance, security, and manageability that people have come to expect from Cisco.Wireless client adapters connect a variety of devices to a wireless network either in ad hoc peer-to-peer mode or in infrastructure mode with APs. Available in PC Card (PCMCIA) and Peripheral Component Interconnect (PCI) form factors, Cisco Aironet 350 Series Client Adapters quickly connect desktop and mobile computing devices wirelessly to all network resources. With this product, you can instantly add new employees to the network, support temporary workgroups, or enable Internet access in conference rooms or other meeting spaces.With a full 100 milliwatts (mW) of transmit power and the best receive sensitivity in the industry, the Cisco Aironet 350 Series Client Adapters provide the longest range and best reliability available for wireless clients. Advanced signal processing in the Cisco Aironet 350 Series helps manage the multipath propagation often found in office environments. Intelligent filtering addresses ambient noise and interference that can decrease network performance. Building upon Cisco leadership in wireless LAN (WLAN) performance, the Cisco Aironet 350 Series Client Adapters provide the greatest throughput available so users can enjoy virtually the same connectivity they gain from wire-line connections. Based on direct sequence spread spectrum (DSSS) technology and operating in the 2.4-GHz band, the Cisco Aironet 350 Series Client Adapters comply with the IEEE 802.11b standard-ensuring interoperability with all other compliant WLAN products.