Have questions? Call us now!
847-468-8900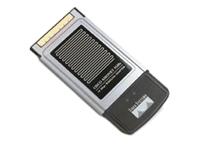 802.11a CardBus Adapt w/Int Ant, FCC Cnfg, 40PK
Cisco Aironet Wireless LAN Client Adapter - Wireless network converter - CardBus - 802.11a (pack of 40 )
The Cisco Aironet 5 GHz 54 Mbps Wireless LAN client adapter is an Institute of Electrical and Electronic Engineers (IEEE) 802.11a-compliant CardBus adapter that operates in the UNII-1 and UNII-2 bands. The client adapter complements the Cisco Aironet 1200 Series 802.11a Access Point, providing a solution that combines performance and mobility with the security and manageability that enterprises require.Wireless LAN client adapters can increase productivity by enabling mobile users to have network and Internet access anywhere within a building that is equipped with a wireless network infrastructure. Wireless client adapters connect a variety of devices to a wireless network either in ad hoc peer-to-peer mode or in infrastructure mode with access points. With this client adapter, you can quickly add new employees to a network, support temporary workgroups, or enable Internet access in conference rooms or other meeting spaces. And the Cisco Aironet client solution is easy to use, making the benefits of wireless mobility completely transparent.