Have questions? Call us now!
847-468-8900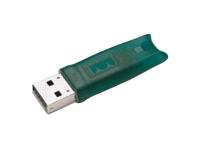 64MB USB Flash Token for Cisco 1800/2800/3800 series
Cisco USB eToken - USB security key
The USB eToken feature enables device authentication and simplifies the deployment and secure configuration of Cisco routers. It uses smart card technology in a USB form factor to facilitate the authentication and configuration process. The token provides secure access to the router-the token and a PIN are necessary to access the configuration, keys, and credentials. The token can also be used to securely provide the configuration to the router, because the configuration can be encrypted on the token.The USB eToken can be used to store files. Any kind of files that need to be securely stored and that can fit on the eToken can be stored. The eToken can store X.509 digital certificates as well as configuration files. These files can be transferred from the router to the eToken with a Cisco IOS Software CLI command or by using a GUI-based software application called Token Management System (TMS) available from Aladdin Knowledge Systems.This product features 64 Mb of storage capacity.
| | |
| --- | --- |
| Product Description | Cisco USB eToken USB security key |
| Product Type | USB security key |