Have questions? Call us now!
847-468-8900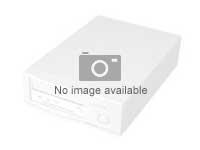 60GB 8mm Tape Unit
IBM - Tape drive - 8mm tape ( 60 GB / 150 GB ) - Mammoth-2 - SCSI LVD/SE - internal - 5.25"
This 60/150 GB, 16-bit, 8-mm, Internal Tape Drive consists of a 5.25-inch, half-high, 16-bit tape drive. This drive gives you a high-capacity tape drive for save/restore and archiving functions. It uses IBM 8-mm data cartridges and is compression capable, offering a capacity of up to 150 GB - up to 375% increase over the previous 20/40 GB 8-mm internal tape drive.
| | |
| --- | --- |
| Data Transfer Rate (native) | 12 MBps ( 42.2 GBph ) |
| Device Type | Tape drive - 8mm tape |
| Enclosure Type | Internal |
| Interface Type | SCSI LVD/SE |
| Product Description | IBM tape drive - 8mm tape - SCSI |
| Recording Standard | Mammoth-2 |
| Storage Removable | 8mm tape - 5.25" x 1/2H |
| Storage Removable Capacity | 60 GB (native) / 150 GB (compressed) |