Have questions? Call us now!
847-468-8900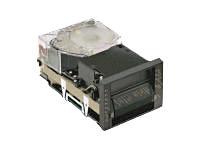 40/80 GB DLT internal SCSI tape drive
IBM - Tape drive - DLT ( 40 GB / 80 GB ) - DLT8000 - SCSI - internal - 5.25"
This 40/80GB DLT Internal SCSI Tape Drive has high storage capacity - 40GB native capacity per cartridge; up to 80GB with hardware data compression. The 40/80 DLT Internal tape drive can be easily configured to fit any environment. Simply install the unit into a 3503-BOX External FH SCSI Enclosure EL for a single external drive, or install inside the Net Media Storage Expansion Unit EL with another tape unit for a rack mount solution with multiple drives. Fast data transfer rate - 21GB/hr native transfer rate; up to 42GB/hr with hardware data compression; Ultra2 SCSI interface (LVDS).
| | |
| --- | --- |
| Data Transfer Rate (native) | 6 MBps ( 21.1 GBph ) |
| Device Type | Tape drive - DLT |
| Dimensions (WxDxH) | 3.4 in x 5.8 in x 9.6 in |
| Enclosure Type | Internal |
| Interface Type | SCSI |
| OS Required | Microsoft Windows NT Server 4.0, Novell NetWare 5.0, IBM OS/2 Warp Server 4.0 Advanced, Novell NetWare 4.2, SCO OpenServer 5.05, UnixWare 7.1 |
| Product Description | IBM tape drive - DLT - SCSI |
| Recording Standard | DLT8000 |
| Storage Removable | DLT - 5.25" x 1H |
| Storage Removable Capacity | 40 GB (native) / 80 GB (compressed) |
| Weight | 6.6 lbs |