Have questions? Call us now!
847-468-8900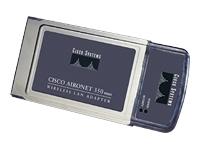 350 Series PC Card with Diversity Antennas & 128-bit WEP
Cisco Aironet 352 - Network adapter - PC Card - 802.11b
Cisco Aironet series access points ensure maximum network coverage efficiency in a variety of information systems and facilities.Cisco Aironet series access points perform functions similar to a hub in a wired network; in addition, they add the vital, price/performance benefits of security, management features, and mobility services. For example, the innovative roaming functionality provided by Aironet access points enables users equipped with wireless client adapters to freely move throughout a facility while maintaining seamless, uninterrupted access to the network. The Aironet family of access points features easy integration to a wired network backbone, flexible configuration, management capabilities, and a wide range of product configurations.