Have questions? Call us now!
847-468-8900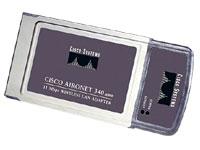 340 Series 11 Mbps DSSS PC Card Adapter w/128-bit WEP (US)
Cisco Aironet 340 - Network adapter - PC Card - Ethernet - 10Base-T, 10Base-2 (coax), 10Base-5 (coax)
The Cisco Aironet 340 Series is a comprehensive family of client adapters and access points that enables organizations to integrate the freedom and flexibility of wireless local-area networking into their information systems.The Aironet 340 series includes a complete line of client adapters, including PC Card, Personal Computer Interface (PCI), and Industry-Standard Architecture (ISA) cards for both notebook and desktop wireless connectivity. Aironet 340 series access points offer unprecedented management features, including a full-featured Web interface to simplify the navigation of the network, and a variety of antenna options to fit virtually any environment. Based on direct sequence spread spectrum (DSSS)3 technology and operating in the 2.4 GHz band, the Aironet 340 series provides an Ethernet-like data rate of up to 11 megabits per second (Mbps). The high speed and throughput of the Aironet 340 series enables the wireless transfer of bandwidth-intensive data such as multimedia streams and large data files within the enterprise. Understanding the security requirements of both small businesses and the enterprise, Cisco provides up to 128-bit Wired Equivalent Privacy (WEP), an optional security mechanism defined within the 802.11 standard that is designed to make the link integrity of the wireless medium equal to that of a cable. WEP is integrated with standard authentication features, providing a level of data security equal to traditional wired LANs. For investment protection, the Aironet 340 series conforms to the IEEE 802.11b standard, ensuring interoperability with equipment available from a variety of vendors. The Aironet 340 series is fully compatible with most popular network operating systems and delivers both Simple Network Management Protocol (SNMP) and Web-based management features. The Aironet 340 series can be seamlessly integrated into wired Ethernet networks, as a complement or alternative to the best-of-class wired LAN products offered by Cisco Systems.