Have questions? Call us now!
847-468-8900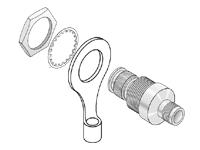 2.4 and 5 GHz Lightning Arrestor, RP-TNC Connector
Cisco Aironet Lightning Arrestor - Lightning arrester
Overvoltage transients can be created through lightning static discharges, switch processes, direct contact with power lines, or through earth currents. The Cisco Aironet AIR-ACC245LA-R Lightning Arrestor limits the amplitude and duration of disturbing interference voltages and improves the overvoltage resistance of in-line equipment, systems, and components. A lightning arrestor installed according to these mounting instructions balances the voltage potential, thus preventing inductive interference to parallel signal lines within the protected system.The Cisco Aironet AIR-ACC245LA-R Lightning Arrestor is designed for use with Cisco Aironet access points and bridges but can be used Cisco Aironet radio device that utilizes an RP-TNC connector.