Have questions? Call us now!
847-468-8900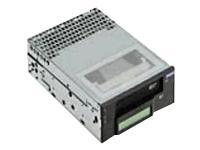 20/40GB 8MM internal SCSI tape drive
IBM - Tape drive - AME ( 20 GB / 40 GB ) - SCSI - internal - 5.25"
Losing important information can be disastrous to any organization so it is imperative that you back up your data.IBM realizes this and offers a reliable tape back up solution - the 8 mm 20/40 GB internal tape drive. This drive is compatible with Exabyte 170m AME tape cartridges and is backward compatible to previous Exabyte formats. It has a backup rate of 180 MB per minute or 360 MB per minute with hardware data compression and a capacity of 20 GB or 40 GB with compression.
| | |
| --- | --- |
| Data Transfer Rate (native) | 3 MBps ( 10.5 GBph ) |
| Device Type | Tape drive - AME |
| Dimensions (WxDxH) | 8.2 in x 5.9 in x 1.7 in |
| Enclosure Type | Internal |
| Interface Type | SCSI |
| OS Required | Microsoft Windows NT 3.51, Novell NetWare 3.12, Novell NetWare 4.1, IBM OS/2, Microsoft Windows NT 4.0, Novell NetWare 3.2, Novell NetWare 5.0, Novell NetWare 3.11, Novell NetWare 4.0 |
| Product Description | IBM tape drive - AME - SCSI |
| Storage Removable | AME - 5.25" x 1/2H |
| Storage Removable Capacity | 20 GB (native) / 40 GB (compressed) |