Have questions? Call us now!
847-468-8900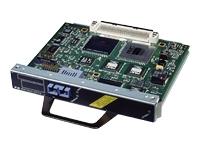 1 port multichannel STM-1 single mode port adapter
Cisco - Expansion module - HDLC, Frame Relay, SONET/SDH, PPP - fiber optic - 1310 nm - OC-3
The PA-MC-STM-1 is a single-wide STM-1 port adapter designed to address the demand for SDH network connections on the Cisco 7600, 7500, 7200, and FlexWAN modules. The port adapter enables users to channel an STM-1 down to 64 Kbps using a variety of encapsulations on as many as 256 logical channels. The time slots in each E1 can be grouped into several individual logical channels, each of which can carry data with different data link layer protocols. The PA-MC-STM-1 enables service providers to use a single fiber-optic circuit to provision 63 E1s-E1s that normally require 63 separate copper pairs. The PA reduces wiring complexity, and, when spare capacity is available, it enables service providers to "turn up" new E1s without dispatching a technician to the router. For service providers with customers who require smaller circuits, the PA-MC-STM-1 supports as many as 256 channel groups and can provision circuits down to DS0-providing even more flexibility and density.
| | |
| --- | --- |
| Cabling Type | Fiber optic |
| Data Link Protocol | HDLC, Frame Relay, SONET/SDH, PPP |
| Device Type | Expansion module |
| Dimensions (WxDxH) | 6.5 in x 6 in x 1 in |
| Form Factor | Plug-in module |
| Line Rate | OC-3 |
| Product Description | Cisco expansion module |
| System Requirements | Cisco IOS |
| Weight | 1.1 lbs |