Have questions? Call us now!
847-468-8900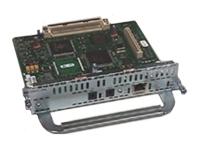 1-Port Channelized E1/T1/ISDN-PRI Network Module
Cisco - ISDN terminal adapter - plug-in module - ISDN PRI - 2.048 Mbps - T-1/E-1
The versatility of Cisco 2610-51XM, 2691, 3660, and 3700 series routers is demonstrated by their broad support of E1/T1 connectivity and Integrated Services Digital Network Primary Rate Interfaces (ISDN PRI). Customers continue to deploy E1 and T1 circuits for Wide Area Network (WAN) connectivity, ISDN dial-backup, and digital modem termination in the Power Branch Office Environment. Cisco now makes it possible to terminate T1 and E1 PRI connections in a single network module. The NM-1CE1T1-PRI card coupled with Cisco 2610-51XM, 2691, 3660, and 3700 Series routers enhances and simplifies customers' WAN connectivity options.The Cisco E1/T1 ISDN PRI Network Module's integrated channel service unit (CSU) provides direct connection to the Telecommunications network, thus allowing customers to consolidate customer premises equipment (CPE). This provides multifunction dial access aggregation, routing functionality, VPN and firewall security, and other capabilities right inside the Cisco router in power branch office environments. The NM-1CE1T1-PRI card offers support for balanced and unbalanced E1 connectivity and conforms easily to customers' specific applications.The Cisco E1/T1 ISDN PRI network modules also supply connectivity for internal digital modems in the Cisco 3660 and 3700 series routers, with connectivity options for PRI, T1 channel associated signaling (T1-CAS), and E1-CAS R2 signaling. This provides for a high concentration of V.92-compatible modems, while still allowing expandability for other critical services.
| | |
| --- | --- |
| Device Type | ISDN terminal adapter |
| Dimensions (WxDxH) | 7.1 in x 7.2 in x 1.5 in |
| Enclosure Type | Plug-in module |
| ISDN Interface | ISDN PRI |
| Line Coding Format | AMI, B8ZS, HDB3 |
| Line Rate | T-1/E-1 |
| Max Transfer Rate | 2.048 Mbps |
| Product Description | Cisco ISDN terminal adapter - PRI |